Vote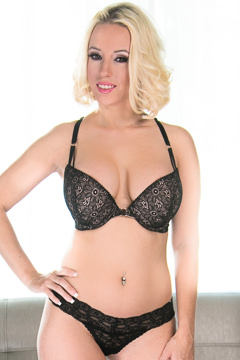 Videos with Aspen Romanoff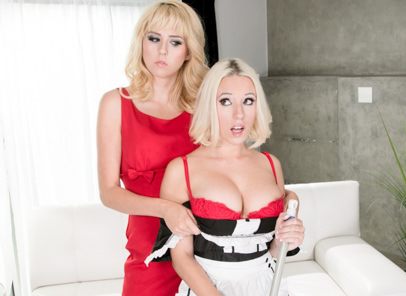 Date added:
2019-03-22
Rating:
Comments:
18
Description :
Aali Kali calls her maid Aspen Romanoff into her living room, telling her that she needs to talk to her. Aspen enters, putting down her rag and spray bottle. Aali is mad. Her favorite bracelet is missing, does Aspen know anything about that?, she asks Aspen. Aspen says that she doesn't know anything about that. Aali narrows her eyes. Is Aspen sure?, because the last time she saw the bracelet, it was on the living room coffee table, and Aspen was in the living room cleaning this morning, Aali says accusingly. Aspen bristles. Is she accusing her of stealing?, Aspen asks Aali. Well, she was the last person to see the bracelet and now it's gone, Aali says. She can't believe that Aali would think that she could do something like that after all her years of working for her as her maid, Aspen says, offended. Maybe she has been doing it for years and she just never noticed it before, Aali retorts. She just can't figure out where Aspen would keep everything. She's already looked through her purse and there was nothing there, Aali says. She looked through her purse??, Aspen says, angry at the invasion of privacy. So if she didn't find anything when she was snooping, where exactly does she think the bracelet could be??, Aspen asks her boss. Aali says that she's sure that any thief has some tricks up their sleeve. Aspen, exasperated by the accusations, has had enough. If she takes off her clothes to prove to Aali that she's not hiding anything, will Aali drop this craziness??, Aspen asks tiredly. Aali looks Aspen up and down. Well, she supposes that it would help, Aali says. Fine, Aspen says and begins taking off her clothes. Aali looks at the maid's body approvingly, biting her lip. She likes what she sees. Aspen finishes stripping down to her bra and panties. So is that good enough?, Aspen asks. Aali is too busy staring at the maid's body and doesn't respond. Hello?!, Aspen calls. Aali shakes her head to clear it. Well, it's a good start, Aali says. What does she mean 'start'?, Aspen asks. Well, the bracelet is small enough to hide in her bra and panties, isn't it?, Aali asks with a hint of a naughty smile. Oh for god's sake, Aspen says. Fine, she sighs and takes off her bra and panties. Nude, she stands in front of Aali. There, now that she's had a good look, is Aali happy?, Aspen asks. Very happy, Aali says dreamily, again staring at Aspen's body. But there's just one more thing that will make her sure that Aspen hasn't been stealing, Aali says. She'll have to do a full...body search of Aspen. This is too far for Aspen. She refuses. Aali tells her that she's not satisfied with the proof, and if Aspen wants to keep her job, she needs to make sure that Aali is totally...satisfied. Aspen locks eyes with Aali for a moment and reluctantly agrees. Aali asks Aspen to lie down on the couch and spread her legs. She does so. Aali gets on her knees and begins to lightly touch Aspen's pussy. Soon, Aali licks her finger, saying that she'll have to get things wet to do a thorough search. She slides her finger inside Aspen. Aspen lets out a small sound of pleasure. Aali nods approvingly upon hearing the sound. 'Oh, you like that, do you? Well, if I have to do this, I might as well make sure that it feels good...and not like a chore,' Aali says wickedly. Aspen's reluctance is disappearing as she enjoys Aali's touch. Eventually, Aali says that she has to use her tongue to do an even more extensive investigation, and lowers her head to Aspen's waiting pussy, determined to search EVERY inch of her maid.
Categories :
Blonde
,
Piercings
,
Big Tits
,
Girl on Girl
,
Natural Tits
,
Rim Job
,
Fingering
,
Pussy Licking
,
Tribbing
,
Lesbian
,
Lingerie
,
Uniform
Date added:
2019-02-25
Rating:
Comments:
24
Description :
Leona (Chloe Cherry) emerges into the living room and greets her roommate Shelby (Kendra Spade) with a good morning. Shelby says matter-of-factly that she'd hardly quantify this morning as good - they've just gotten up, nothing eventful has happened good OR bad, so it seems like a perfectly average morning to her. Why doesn't she just say 'average morning' instead? Or, more efficiently, just 'morning'. Or for that matter, if there's nothing eventful to remark upon, why say anything at all? Humans have a remarkable capacity for talking too much. Leona rolls her eyes and replies sarcastically that she's right, 'SOME of us DO talk too much!'.

A knock on the door interrupts their bickering, and Shelby remarks curiously that should they be expecting someone this early? Leona tells her as she walks to the door that she invited Holly (Aspen Romanoff) over to talk about their upcoming trip to the comic convention out of town.

Their nerdy friend Holly is at the doorstep holding a bag in her hand, and she greets Leona warmly. She leans in for a kiss on the lips but Leona flinches back and holds out her hand for a handshake instead. Holly rolls her eyes and shakes the girl's hand, annoyed to being given the cold shoulder.

Holly and Leona sit down and Holly excitedly says she got the tickets for the convention! Full weekend passes, plus a fast track pass for the autograph booths. Holly says to Leona with a seductive look that she even got them a queen-sized bed together at the hotel. Shelby looks up with mild curiosity, oh, the two of them are sharing a bed? Leona gets flustered and says just in a friendly, platonic way of course, just to save money.

They begin to discuss the costumes they have planned to wear at the convention. Holly says that she has her costume right here, patting the bag. She then gets up and excitedly hurries off to get dressed and show off.

When Holly returns, she strikes a pose - she's wearing a costume from Fantasy Factory: Wastelands that's VERY revealing! Leona's jaw drops and she rubs her glasses with her sleeve in disbelief. She goes up close to where Holly is standing behind the couch and inspects the costume up close. She pretends that she's admiring the details of the costume, but she's clearly admiring Holly's curves. Holly gets more handsy, and Leona tries to quietly suggest not to do it here in front of Shelby, but Holly convinces her to relax, Shelby is in her own little world. Leona looks nervous and afraid to get caught but can't resist her lover's touch.

The two decide they're too horny for foreplay any longer. Holly asks Leona if she can come to the other room with her to help her get the costume off, under the pretense of it having a bunch of zippers and stuff in the back that are hard to reach. Leona agrees and tells Shelby she's going to the other room, Shelby doesn't seem to care much.

When they get to the bedroom, it's a flurry of hands and mouths as the two of them engage in foreplay and sex, eventually taking off both the costume and Leona's clothes for full skin-on-skin action. Leona is still worried about getting caught, but Holly is more lax about it, surprised that Leona still hasn't told Shelby about them - 'You know how Shelby gets,' Leona replies.

After a passionate round of sex, the door suddenly flies open and Shelby bursts in the room, showing off her costume. Leona is startled and flustered while Holly is more casual about it, but they lie that the reason they're both naked is because Leona tried on her costume too, and Shelby just caught them both changing out of their costumes at the same time. Shelby says that she's not STUPID - to quote Occam's Razor, the simplest solution is often the right one. The only other reason they'd both be naked together is if they were having sex, so they're having sex.

Holly says that if Shelby knows they're having sex, she should give them some privacy. Shelby says she could, if they WANT to be amateurs. She is a highly qualified sex expert that has done a lot of research in several languages and countries. Holly snorts, if Shelby thinks she's such a know-it-all, then why doesn't she join them? 'You know what, I think I will,' Shelby says while starting to undress. Leona is flabbergasted that she's going to be learning hot sex tips from SHELBY, of all people!

Calm and confident, Shelby leads the charge into the threesome, teaching the two amateurs how to REALLY have wild lesbian sex. Leona and Holly have the time of their lives under Shelby's guidance, learning how to eat pussy and trib like pros. Maybe having a know-it-all for a roommate isn't so bad after all!
Categories :
Blonde
,
Big Tits
,
Girl on Girl
,
Member Fantasy
,
Threesome
,
Natural Tits
,
Fingering
,
Pussy Licking
,
Hairy
,
Asian
,
Facesitting
,
Tribbing
,
Lesbian
,
Uniform
,
Vignettes
Pictures with Aspen Romanoff
Date added:
2019-03-22
Rating:
Comments:
0
Date added:
2019-02-25
Rating:
Comments:
0
Date added:
2019-02-25
Rating:
Comments:
0