Vote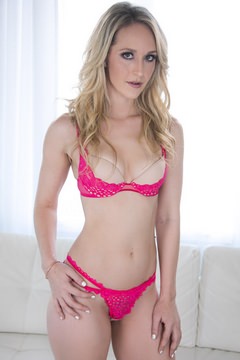 Videos with Ginger Banks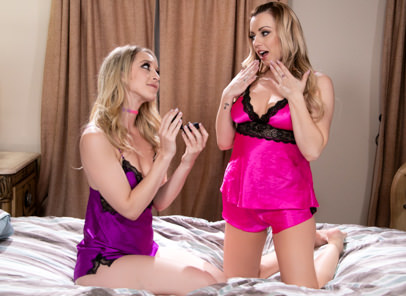 Date added:
2019-05-02
Rating:
Comments:
26
Description :
Two young women, Lexi Belle and Ginger Banks, are sitting on a bed together, gazing at each other. Yet, when Lexi moves in for a kiss, Ginger stops her, asking what she's doing. Lexi apologizes, saying that she thought she was getting flirty signals... However, while Ginger says she's not gay, she's curious, so they try a sweet kiss...Three years pass, and the two girls are now living together and sharing the same bed. They're girlfriends, but they have a running joke about Ginger still not being gay. It looks like Lexi's been sharing her life and being in love with a straight girl all of this time!More time passes, and Ginger is sitting on the bed looking nervous. Today is the big day... She just has to be brave enough for it!Ginger calls Lexi into the room and sits her down, saying they need to talk. Although Lexi's anxious at first, she soon reveals an engagement ring and proposes to Lexi -- she wants them to spend the rest of their lives together! Lexi happily accepts as they come together in a joyous, loving embrace.To celebrate the engagement, they make love. The session is filled with passionate kisses and affectionate touches. They tongue and eat out each other's pussies with relish, exchanging adoring looks the whole time. When they feel they're close to the end, they climb on top of each other and trib until they finally find the relief they've been looking for. It looks like Ginger just may be gay after all!Story inspired by an original submission by Girlsway member, Metalhead42!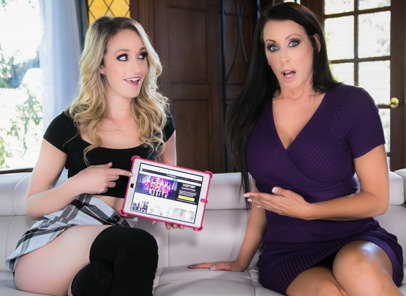 Date added:
2019-03-08
Rating:
Comments:
24
Description :
Reagan Foxx, a conservative housewife, is enjoying a quiet day at home when there is a knock on the door. She is a little confused, murmuring that she's not expecting anybody today. When she opens the door, Ginger Banks, an enthusiastic and bubbly young woman, greets her. Reagan is wary but puts on a fake smile, saying that whatever she's selling, she's not buying, since her darling husband takes care of that. Ginger insists that that's not a problem, since she's not selling anything! Ginger passionately explains that she's there as an advocate for women and would love just a few minutes of her time to give her some information on a congressional bill that was passed last year. Reagan smiles a little, saying that she was an activist, too, back in the days, and now steps back to allow Ginger inside. Ginger is pleased and bounces inside.Ginger goes into detail about a congressional bill that has made things difficult for sex workers. Reagan doesn't seem to have much sympathy, saying that as far as she knows, that kind of thing usually leads to other things like porn. Ginger mentions that porn has come a long way in recent years and is very much about female empowerment, referring to Girlsway.com, a site that's at the forefront of female-friendly porn. Ginger offers to show her the website if Reagan is up for it. Reagan hesitates but inches a little closer to Ginger to look at the screen on Ginger's tablet. At first, it seems to be too much for her and she keeps looking away, only to look back again as if magnetically drawn to the screen. In fact, it seems as though Reagan is actually becoming aroused as Ginger navigates through the Girlsway site and talks more about the videos, special Features, and everything else that's included.Ginger turns towards Reagan, licking her lips, asking Reagan if it's ok if she asks her a personal question. Hesitantly, Reagan says yes and Ginger delicately asks her if she's ever had a sexual experience with...a woman? Reagan shakes her head, saying that she never has and absolutely is NOT gay! She's married! To a MAN! Besides, even if she wanted to experiment with a woman, she doesn't have anyone that she could do that with. Ginger leans toward her, placing a hand on her knee. Reagan glances down at the hand on her knee, then back up to Ginger. Ginger smiles, rubbing Reagan's leg lightly, telling Reagan that she's more than happy to help her with that, if that's what she REALLY wants. Reagan is nervous, but when Ginger leans over and kisses her sensually, she can't resist.This advocate's about to show Reagan the MANY joys of porn, FIRSTHAND.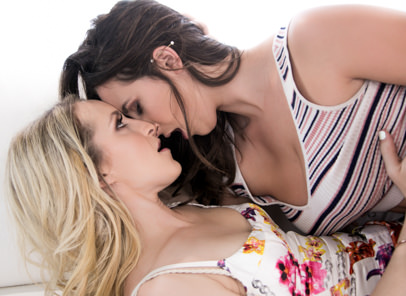 Date added:
2018-12-16
Rating:
Comments:
27
Description :
Ginger Banks returns home and emits a loud angry sigh of frustration as she heads straight past her roommate and flops down on the nearby couch. 'Bad date?' Ashley Adams asks with a sympathetic smile, shutting off the TV and sitting up, either cross-legged or holding her knees, to fully turn her attention to her friend. Ginger tells her she has no idea - men are the worst! Ashley jokes that that's why she became a lesbian, to not have to deal with any more bad man-dates.Ginger begins describing the bad date in detail, from the bad first-date topics he brought up to when he yelled at the server, which is such a red flag. The worst part of it all, Ginger finishes, is that even after all that she was still desperate enough to make out with him and he had the NERVE to call her a bad kisser! She's been dating for years, and has never once been called a bad kisser. She flops down again with a noise of disapproval saying she's quitting the dating scene.Ashley says that she once dated a girl who thought she was a great kisser, and she turned out to be terrible. Ashley didn't have the heart to tell her otherwise. Maybe Ginger really is a bad kisser, and it's just that nobody's ever told her! Ginger huffs up and tells her friend she KNOWS how to kiss, that's not the issue. Ashley tries to get her to at least consider the possibility, but Ginger is adamant. Finally, Ashley confesses that while she didn't want to tell her and hurt her feelings, Ginger's ex-boyfriend once told Ashley in confidence that kissing Ginger was like kissing a statue, she never moved her lips or opened her mouth or anything. Ginger is mortified - she's been a bad kisser all this time and nobody ever had the decency to tell her? Ashley shrugs apologetically and says it's a touchy subject for some people. Case in point.Ginger hides her head under a pillow and says she can't believe this, no wonder she's single. Ashley asks where she learned how to kiss in the first place, and Ginger says she doesn't know, she just kind of picked it up along the way. Ashley says that that's her problem, she never had anybody teach her or give her pointers. Ginger whines that that kind of thing is so awkward for everybody involved, but Ashley says the trick is to NOT do it with somebody who she's trying to impress, she needs to find somebody impartial who will be honest with you. A fuck buddy or friends with benefits. Ginger admits she's only ever been in long term relationships, and doesn't have anybody like that. Ashley offers, and Ginger immediately refuses. 'I'm not gay!' she says with a laugh as she tosses the pillow at her roommate playfully. Ashley shrugs and says how else is Ginger supposed to learn, is she going to ask her next bad date for pointers? Besides, girls know way more about kissing other girls the right way than guys do. Ashley could turn Ginger into a kissing pro overnight if she let her. Ginger is hesitant but admits that she's tired of being single, she's willing to try anything at this point. Ashley promises to be a perfect 'gentleman'.Ashley first asks Ginger to kiss her as if she was one of the guys she's dated. Ginger leans in and their lips meet in a kiss. After a few seconds, Ashley pulls away and takes on a very matter-of-fact tone in stark contrast to her intimate nature from a few seconds ago. Not bad, she says, but she can see why guys would say she's not a good kisser. She's completely passive. She needs to show more assertiveness! Ginger admits she doesn't really know how to do that.Ashley tells her to relax, loosen up. It'll only be weird if she makes it weird! Ginger nods and musters up a bit of courage to try and take the lead, then asks how she should start. Ashley tells her she likes to always start a kiss with a bit of hand contact on her partner's face, it makes them feel special and builds anticipation. She brushes a strand of hair out of her friend's face and then her hand lingers on her friend's cheek. 'See? Like this,' she says, explaining that you never go straight in for the kiss right away. It's all about building up to a moment. Ashley leans in slowly and their breath quickens as she continues to talk, now just a little louder than a whisper. She explains that with the hand on the cheek she can lightly pull her partner in, and position them for the perfect kiss. Finally their faces are inches away, and she explains the final step, going in for a tender passionate kiss on her friend's mouth.After a lengthy make-out session trying out various kissing techniques, Ashley asks if Ginger wants to learn some 'advanced' techniques. Ginger asks, like what? Ashley smirks and says that there's more body parts you can kiss than just the lips. Her hand runs slowly and teasingly along Ginger's body as she explains that the back, the nipples, the neck, all of these are sensitive areas that an expert kisser can use to her advantage. And of course, there's other areas further down. Ginger blushes and giggles and says maybe Ashley can show her the first ones, but she draws the line at those 'other areas'. Ashley grins and calls her a spoil-sport, then spins Ginger around and unzips the back of her dress to very gently kiss her friend's upper back. Ginger laughs that it tickles, but Ashley just says 'good!' as she continues to move her lips to various sensitive areas to show her friend how to kiss them.As the body kissing gets more and more intense, Ginger finds herself getting lost in lust, gasping and moaning as she's being pleasured. Her dress slowly comes off, as Ashley removes it to get to her breasts and stomach. After a couple of minutes of foreplay, her friend has ended up at her stomach, having done the full tour of her upper body. Ginger is panting heavily, and Ashley looks up with a devilish grin. 'Are you suuuure you don't want me to go any lower?' she says coaxingly. Ginger looks embarrassed but knows she can't say no. Sure, she gives in finally, why not? Ashley slides off her friend's panties and starts kissing down Ginger's hip, making her way to her beautiful pussy. She spreads Ginger's legs and gives her friend's pussy a couple of gentle kisses before licking it more energetically.Even if Ginger denies she's a lesbian, she can't deny that these 'pointers' will be seared into her mind - and onto her lips - forever!
Categories :
Blonde
,
Brunette
,
Big Tits
,
Girl on Girl
,
Natural Tits
,
Rim Job
,
Fingering
,
69
,
Squirting
,
Pussy Licking
,
Hairy
,
Lesbian
,
Model Debut
Pictures with Ginger Banks