Vote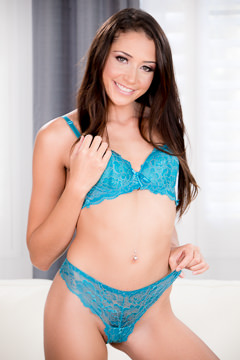 Videos with Avi Love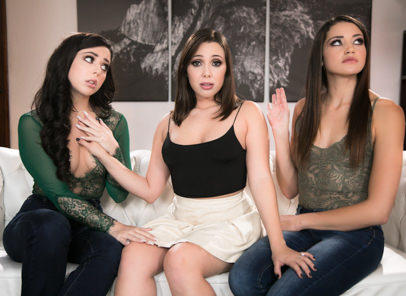 Date added:
2019-03-24
Rating:
Comments:
37
Description :
Avi Love is sharing the bed with her fiancée, Jenna Sativa, who is dozing next to her. However, Jenna is restless, and it's revealed that Jenna had a nightmare about her ex-girlfriend, Whitney Wright, who stood her up at the high school prom. Avi is suddenly concerned about her girlfriend dreaming about her ex when they're supposed to be getting married, although Jenna insists that it's all in the past -- they didn't even have sex!Avi doesn't believe Jenna that it's all in the past. She declares that Jenna needs to reconnect with the ex to have sex with her to get rid of any lingering feelings. Jenna is shocked -- she can't cheat on Avi! Avi calmly assures her that it's not cheating since she's going to be there, too. Although Jenna's hesitant at first, she agrees for the sake of her future marriage.After getting hold of Whitney through an old contact, she invites Whitney over one night. When Whitney arrives, she's only greeted first by Jenna. Given their history, Whitney assumes they're going to rekindle the flame, but when Avi makes an appearance, she learns that Jenna's engaged! Although shocked at first, Jenna and Avi soon fill her in on the details, asking if Whitney will have a threesome to help everyone move on. Although this isn't the sort of thing Whitney usually does, she's touched by how chill the couple is. Yeah, sure, she'll have sex with them to get it out of everyone's system -- she owes Jenna, anyway.With Jenna being the focus of their attention, Whitney and Avi both start by pleasing Jenna with their mouths and fingers. Jenna loves every second of the attention, but once she starts getting comfortable, she returns the favor by eagerly fingering and eating out their pussies as well. As things get hot and heavy, it's easy to live in the moment as they bring each other to orgasm. Maybe now, they can all finally move on with their lives!Story inspired by an original submission by Girlsway member, rookie!
Categories :
Brunette
,
Member Fantasy
,
Threesome
,
Natural Tits
,
Rim Job
,
Fingering
,
Teen
,
Pussy Licking
,
Hairy
,
Tribbing
,
Romance
,
Lesbian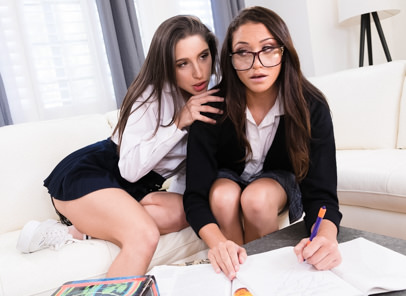 Date added:
2019-01-04
Rating:
Comments:
16
Description :
Abella Danger is frustrated as she tries to study but gets nowhere fast. When does anyone actually USE this stuff in real life, anyway? That's when she finally turns to Avi Love, a tutor, for some much needed help.Not long after, Avi appears at Abella's place, upbeat and ready to teach. Avi seems particularly flustered around Abella, which Abella notices but doesn't comment on.Abella directs them to a couch while Avi secretly fangirls about being in Abella's house. They settle down and try to study, although Abella is a little hard to work with. Avi is optimistic, offering to come over every day after school to help. She'd also be happy to stay overnight or study during lunch breaks as wel. They could become best friends!An idea starts forming in Abella's head. She moves closer to Avi, beginning to use her charms to seduce her. She caresses Avi's arm and plays with her hair, telling her that she's pretty. She even removes her glasses. Although Avi needs those to see, she doesn't complain since she's more than happy to have Abella's attention. Then Abella begins talking about how important the scholarship is. Everything rides on her getting that scholarship, so she needs Avi to help her cheat.Avi is taken aback, having not expected that, especially since she was starting to get into the flirting. There's no way she can do that! They'll be in serious trouble if they're caught cheating. 'Don't you want to make me happy?' Abella coos while coming onto her more, making Avi melt. Of course Avi wants to make her happy so that they can hang out more! Abella insists that the only way for that happen is for them to take risks. If Avi helps her cheat, Abella promises to also make her the coolest girl in school...Avi's too hot for Abella to pass up this chance. She agrees to help Abella cheat, and the deal is sealed with some fun on the couch. All of Avi's wildest fantasies come true as Abella licks her pussy and fingerbangs her. Of course, Avi is all too eager to please Abella as well, willing to do anything for Abella's affection. All she can hope is that this risk will pay off!
Categories :
Brunette
,
Girl on Girl
,
Member Fantasy
,
Natural Tits
,
Small Tits
,
Rim Job
,
Fingering
,
College
,
Pussy Licking
,
Tribbing
,
Ass
,
Lesbian
,
Uniform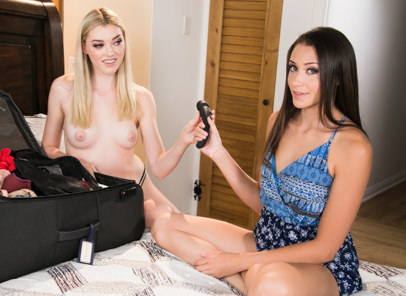 Date added:
2018-12-14
Rating:
Comments:
14
Description :
Avi Love is waiting in the living room, casting quick looks to the front door. She can hardly contain her excitement for the arrival of her friend, who she hasn't seen in nearly two years. When there's a knock on the door, she throws it open, revealing Anny Aurora. They squeal and crash into each other's arms, thrilled to be reunited once again.The two friends sit together on the couch, unable to keep their hands and eyes off one another. Avi gushes about how she has so many plans for Anny and can't wait to get started! Anny playfully groans and asks if they can have a quiet night in for the first night, at least. She came all the way over from Germany, after all. Avi reluctantly agrees but shows Anny to the guest room, leaving her to get comfortable.Anny opens her suitcase and begins unpacking and undressing to get comfortable. When she goes into the bathroom, Avi sneaks back into the room and goes through her luggage. Her eyes widened as she finds Anny's vibrator. Her hot friend's so bold to be bringing this along on a holiday! She's caught moments later when Anny returns, although she's not angry but instead amused. She joins Avi on the bed, enthusing about the vibrator and how she wants to show Avi how good it is. Unfortunately, the battery's dead and the charging cable is back in Germany...Avi's curiosity is piqued. Is Anny into girls? She HAS to be since she's so enthusiastic about showing Avi the vibrator. Anny laughs, surprised that Avi doesn't already know that -- isn't it obvious? Now that it's out in the open, they can't contain their lust for one another any longer as they come together in a fiery kiss.Anny is filled with newfound energy as Avi pleases her guest by eating out her pussy. There's plenty of fingerbanging and tribbing to help chase away Anny's jet lag as well. Avi is determined to make this the most fun-filled vacation ever, and it seems like they're off to a good start!
Categories :
Blonde
,
Brunette
,
Girl on Girl
,
Member Fantasy
,
Natural Tits
,
Small Tits
,
Rim Job
,
Fingering
,
Pussy Licking
,
Facesitting
,
Tribbing
,
Lesbian
Pictures with Avi Love