Vote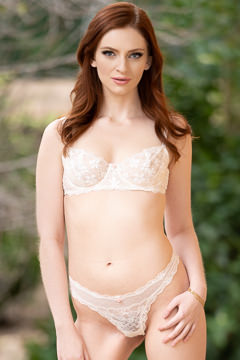 Videos with Maya Kendrick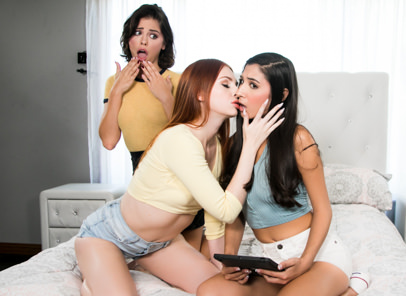 Date added:
2019-02-08
Rating:
Comments:
15
Description :
Gianna Dior, Maya Kendrick and Adriana Chechik come into Adriana's room and hop up onto her bed. Adriana has a tablet that they all crowd around. They are about to take an aptitude test that will tell them which job is best for them.

Adriana is the first to take the test, and she is excited to tell her friends that the job it recommended is astronaut. Maya jokes that that is a perfect job for Adriana since she's such a space case in class. The girls laugh as Gianna takes the tablet and begins her test next. As she reads the questions aloud, her friends help her with the answers. Is she a people person?, Gianna asks. Oh yeah, definitely a people person, her friends answer. When Gianna finishes, her results say that she should work in the medical field. Maya jokes that Gianna should become a gynecologist, if only for the view. Her friends scoff, asking Maya why her mind is always in the gutter. Maya laughs it off and begins her test.

When Maya finishes answering her questions, she is disappointed when the test gives her the job of 'barista'. Her friends try to reassure her, telling her that she loves coffee, so it's perfect. Annoyed, Maya hands the tablet back to Adriana.

Eager to look at the second result of her test, Maya reads it and proudly tells the girls that she must be a genius, because the second result is biochemist. Gianna looks at her second result and is a little puzzled when she reads it aloud: mortician? The girls shrug. When Maya grabs the tablet to look at her second result, she can't believe what she's seeing. She doesn't even tell her friends what it is, because she's so disappointed with what it predicts for her future. Instead, she tosses the tablet away angrily onto the bed behind her, saying that the test is stupid and it doesn't really know anything about them.

Sliding closer to Gianna, Maya adds that there are so many other skills that are important that the test can't know anything about. Like...Gianna's...people skills, Maya adds flirtatiously, tracing her long fingernails on Gianna's bare leg. Their future is their own, Maya insists, why should they listen to some stupid test to tell them who to be or how to act? They don't have to do what it tells them, they can just do things that they...enjoy, Maya says, licking her lips as she traces her hand along Gianna's arm suggestively. Catching her drift, Gianna and Adriana are hesitant, saying that Adriana's mom is right downstairs. Plus, it's really...unnatural, Adriana says earnestly. Maya retorts that there's nothing unnatural about this, they just want to have fun. She adds that there are a lot of different things that they need to learn and she...thinks she's a good teacher, as she softly kisses Gianna's neck. Gianna gasps in shock, but can't help liking it a little.

Adriana says that she wants to save that kind of learning for college, right Gianna? Gianna agrees, saying that this might be a little early. But why would she want to wait, when they could have fun RIGHT now?, Maya asks as she gently places her hand on Gianna's breast. Gianna is rapidly losing her hesitation and looks over at Adriana, saying that maybe Maya's right, maybe it COULD be fun? Adriana is surprised to hear this, but as Maya continues to play with Gianna's tits, Gianna can't help but admit that it does feel really good. Maya takes the next step, unzipping Gianna's top and pulling out her soft tits before licking her nipples hungrily. Adriana looks on in shock. Gianna moans as Maya tongues her hard nipples.

Soon Gianna has second thoughts, and says that maybe Adriana is right and they should stop. But if what she was doing before felt good, think of how good THIS will feel, Maya says seductively, slipping her hands between Gianna's legs and rubbing her pussy. Gianna lets out a loud squeal. As Maya works Gianna's clit and kisses her tits, Adriana watches, her mouth agape, worried that her mom will walk in while her friends are going at it.

Maya lies Gianna down on the bed as Adriana continues to freak out. Maya begins to eat Gianna's wet pussy, savoring every lick of her friend's swollen clit. Adriana keeps trying to tell them to stop but they're not listening to her. As Maya licks Gianna's pussy, Adriana can't help but be a little intrigued though, and she begins to bite her lip with curiosity as she looks at them.

Adriana's willpower is being tested like never before, but how much longer can she REALLY resist her gorgeous friends?
Categories :
Brunette
,
Redhead
,
Girl on Girl
,
Threesome
,
Natural Tits
,
Rim Job
,
Fingering
,
College
,
Pussy Licking
,
Facesitting
,
Tribbing
,
Lesbian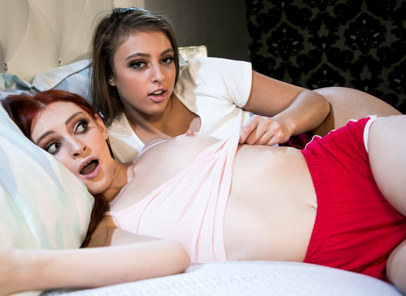 Date added:
2018-12-21
Rating:
Comments:
18
Description :
Gia Derza and Maya Kendrick are having a snooze together in bed. Gia tosses and turns. Suddenly she snaps awake and rouses Maya, telling her fearfully that she had a nightmare and that she's scared of the dark. Maya turns on the lights and comforts Gia, saying that there's nothing to be afraid of. Maya adds that there are tons of things that scare her, like snakes, clowns and most of all: spiders. As the girls chat and laugh about all the silly things that they're afraid of, they get closer to each other, and Maya takes Gia's hand, caressing it softly. Her guard down, Gia lets it slip that she's afraid of the fact that she...likes girls. Maya looks surprised and there's a moment of tense silence between the two.But Gia's confession has given Maya the courage to confess something of her own, and she breaks the silence. Stroking Gia's bare leg and smiling flirtatiously, Maya tells Gia that she's scared that the girl she likes doesn't like her back. Gia takes her friend's hint, looking back at Maya lustily as she moves in to kiss her. Their plump lips lock in a passionate kiss. The girls moan, and Maya slides Gia's top off, lightly kissing her tits as she plays with her nipples. Maya's top comes off too and Gia sucks on the redhead's hard nipples greedily. Maya decides it's time to take things to the next level and peels off Gia's shorts, eager to get a taste of her friend's wet pussy. And Maya does just that, tonguing Gia's clit as Gia writhes in ecstasy. But their confessions have awakened something wild in Maya and Gia, and they'll certainly have a lot more to confess by the time the night is through...
Categories :
Brunette
,
Redhead
,
Girl on Girl
,
Member Fantasy
,
Natural Tits
,
Small Tits
,
Rim Job
,
Teen
,
Pussy Licking
,
Facesitting
,
Tribbing
,
Lesbian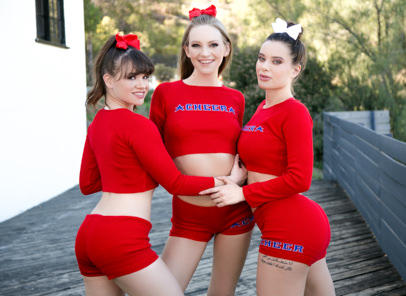 Date added:
2018-04-16
Rating:
Comments:
27
Description :
Alison Rey, Maya Kendrick and Lana Rhoades are practicing their cheerleading routine. When they finish up, the girls decide to get together at Alison's house to study. Later on that afternoon, the girls are about to plan their study session but before they begin, Lana asks if she could jump in the shower first. As Lana gets undressed in the bathroom, Alison and Maya talk about seducing her. They've both been really into her and have been wanting to fuck her for the longest time. This might be their best chance! The girls open the door, and grab a naked Lana and throw her on the bed. When Lana asks the girls what they think they're doing, they start groping her and sucking on her tits. They tell her that she's done such a great job as the top cheerleader that they want to thank her properly. Lana has a boyfriend and no interest in fucking with either of them but she has a hard time fighting them off. They kiss her neck and sucks on her tits, insisting that all they want is to make her feel good. Lana is their captain and can't risk losing control of her troop but the girls don't care. They want her and are gonna have her whether she likes it or not. They lie her down and start licking her body. Once she makes them swear that this will never leave the room, she starts easing into it. Before she knows it, Lana's got a mouthful of pussy and is the one leading the charge.
Categories :
Blonde
,
Brunette
,
Big Tits
,
Girl on Girl
,
Threesome
,
Natural Tits
,
Rim Job
,
Pussy Licking
,
Facesitting
,
Tribbing
,
Ass
,
Lesbian
,
Vignettes
Pictures with Maya Kendrick