Vote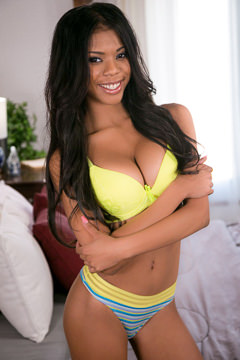 Videos with Nia Nacci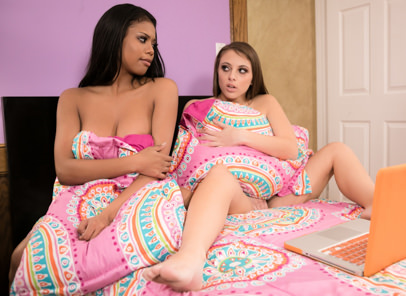 Date added:
2019-03-15
Rating:
Comments:
28
Description :
Gia Derza and Nia Nacci, two friends, are enjoying each other's company while playing Go Fish in Gia's bedroom. Whenever Nia leans forward to pick up cards, her perky breasts get Gia's attention. She's getting more aroused by the minute, sometimes shifting against the bed when she thinks Nia is distracted.Then Nia fans herself a little and asks if Gia is getting hot. Gia agrees that it IS hot in the room, so she'll check the thermostat. She leaves the room, then mischievously grins as she approaches the thermostat and ups the temperature instead of turning it down. When she returns to the bedroom, she acts innocent, saying that the air conditioner is broken. It happens a lot. So much, in fact, that Gia usually just walks around the house naked when her parents aren't around! Gia says that Nia could strip down now and try it out if she wants, since Gia doesn't want her to be too hot. Her parents are out for the night, so it's just them!Nia hesitates, unsure about stripping down in front of her friend since she's not quite as confident. Gia strips down to her underwear first to encourage Nia. Nia is still shy as she looks Gia's body up and down before following suit. Gia compliments Nia's body, saying, 'See? It's not so bad! We're both girls here!'Gia grabs a checkers board from her dresser for them to play next. As they set up, leaning over each other, Gia is able to admire Nia's breasts even more as they sit nice and snug in her bra. Oh, what she wouldn't give to get her hands on them.After they play a little, Nia shifts uncomfortably... Is Gia absolutely SURE the air conditioner isn't working? Gia says that she's TOTALLY sure. Yep, there's no doubt about it -- the air conditioner is definitely broken. Maybe they should cool down by stripping naked.Nia gasps and stares at Gia. She's all right with being in her underwear around Gia but NAKED? Gia tells her to relax, asking what the big deal is? Again, they're both girls here, so what's the harm? They can even watch a movie so that they don't even have to face each other. They won't even notice that they're naked, then! Besides, they're 18, so they're in prime shape and shouldn't be afraid to show off their bodies, anyway.Nia is still hesitant, even as Gia removes her underwear and bra, tossing them aside. Nia stares for a second at Gia's pretty form before looking away. She once again agrees that it IS hot... then removes her own panties and bra. Once she's completely naked, Gia praises her. 'See, it's not so bad, is it?' Nia blushes and insists that they watch the movie already.Gia grabs her laptop and they sit on the bed, watching a movie together, though Nia grabs a pillow to hug in front of her to hide her body. She shyly asks Gia to do the same. Gia rolls her eyes but agrees, grabbing a pillow and putting it in front of herself. Nia is really into the movie, leaning forward with her attention on the screen. Gia grins, glancing to Nia's ass again, since that's not hidden by the pillow, then slyly masturbates beside Nia. Since Gia is mostly hidden by the pillow, which proved to be handy, and Nia is distracted by the movie, Nia doesn't seem to notice Gia masturbating. As Gia really gets into masturbating, she starts saying things like, 'Yes!' and 'Oh, god!' Nia, still completely oblivious, treats these orgasmic comments as being responses to the movie they're watching.When Gia cums loudly, the jig is up. Nia is suddenly no longer watching the movie and is instead shocked, pulling sharply away from Gia. She squeaks, asking what the heck is going on?? Gia, looking pleased with herself and relaxed, says that she just couldn't help it. She has a HUGE lady-boner for Nia...Nia is still stunned, asking if Gia invited her over to really get to know her or just to... masturbate to her. Gia carefully and sheepishly says '...Both?' Nia blushes, then carefully admit that she has a bit of a crush on Gia, too. But she wasn't expecting THIS! Gia says she hides it really well! Nia says that she's just shy... Well, now Gia will teach her how to get over that!Gia goes straight for Nia's breasts, finally getting to feel them. She fondles them and sucks on them, gazing mischievously up to Nia to make sure she's enjoying herself, which she is. When Nia does the same for her in return, the room gets hotter still. Then, they finally get to taste each other's pussies, tonguing and rubbing each other until they cry out with delight.Story inspired by an original submission by Girlsway member, BlackDow!
Categories :
Brunette
,
Big Tits
,
Girl on Girl
,
Member Fantasy
,
Masturbation
,
Natural Tits
,
Rim Job
,
Fingering
,
Teen
,
69
,
Pussy Licking
,
Ebony
,
Interracial
,
Ass
,
Lesbian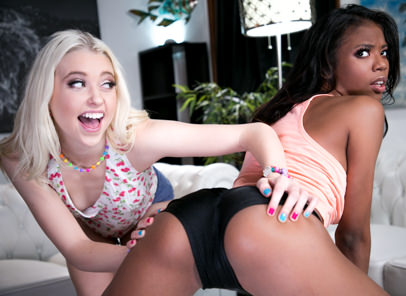 Date added:
2018-05-18
Rating:
Comments:
22
Description :
Chloe Cherry has recently joined a twerking team and is hard at work on her routine. Practicing in the mirror, she makes sure her sexy little booty moves in all the right directions. When Nia Nacci walks into Chloe's room, she has no idea what she's up to. She clears her throat and Chloe turns around laughing. Slightly embarrassed, she explains that she just joined a twerking team and has to get in all the hours she can before the next gig. Nia has no idea what twerking is, but is definitely intrigued. She might not want to admit it but she's definitely never noticed how hot Chloe's ass is, especially now that she's shaking it in every direction. When Chloe asks Nia to try, she gets the rhythm down almost immediately. Who knew she was a natural! Chloe puts her hands on Nia's hips and ass and directs her on how to move. Chloe gets up and shows her how to do it while she tells her about the time she twerked on a girl's face. Nia tells her that she never knew she was into girls. As a matter of fact, so is Nia. When Nia asks if Chloe would be willing to twerk on her face, Chloe happily agrees. The girls start kissing and taking off their clothes as they ravage one other's bodies. The girls don't know it yet, but they'll both be twerking on each other's faces until the next morning.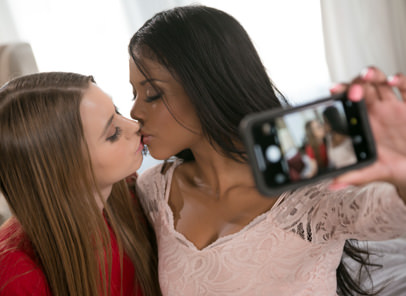 Date added:
2018-02-02
Rating:
Comments:
35
Description :
Nia Nacci found a cell phone on the street and is going through it in order to find it's owner. When she decides to go through the photos, she can't believe how hot the owner actually is. Suddenly, the phone rings and it's Jill Kassidy. Jill asks Nia if they can meet so she can get her phone back. Nia gives her the address and Jill tells her she's on her way. Jill thanks Nia for finding her phone and notices that her pics on her phone are displayed. When she confronts Nia about this, she gets a flat denial. Jill knows she's lying but is somewhat flattered that she was looking at them. When she asks her again, Nia admits that the pictures are really nice. Jill asks her if she's ever been with a girl before. When Nia says no and then Jill asks her if she wants to touch her tits. She picks up Nia's hands and puts them on her breasts, asking her if she likes how they feel. Before Nia has a chance to say anything, she lifts her shirt up and puts them on her bare skin. Jill starts kissing Nia and the girls start making out. Wanting to see them for herself, Jill takes off Nia's shirt to reveal her perfect school-girl tits. She starts sucking on them and remarks how great they taste. Nia returns the favor by sucking on Jill's tits, asking if she's doing it right. Regardless of her inexperience, Jill moans in delight, stating that she's a natural. Jill can't wait a moment longer and dives into Nia's pussy. She starts eating her out, making her cum almost immediately. It's Jill's turn now and Nia is eager to eat her pussy. The girls 69 and trib as Jill fucks Nia and spreads her pussy juices all over her cunt. It's Nia's turn to fuck Jill as she gets on top and grinds her wet pussy. It looks like this lost & found paid off for both of them!
Categories :
Brunette
,
Big Tits
,
Girl on Girl
,
Member Fantasy
,
Masturbation
,
Natural Tits
,
Fingering
,
Teen
,
69
,
Pussy Licking
,
Petite
,
Ebony
,
Tribbing
,
Interracial
,
Ass
,
Lesbian
Pictures with Nia Nacci